50% Off- Tape in Hair Extensions Best Human Hair Lightest Blonde #60

2.5g/piece, 20pcs/50gram per pack, 40-60pcs for full head attachment.

Lightest Blonde. Color matching service is available.
Silky straight, would get a little wavy after washing or improper packaging

100% real remy human hair, natural, silky and soft.
Can be curled, straightened, and restyled as your own hair.
Can be dyed, but only from light color to darker one, please take ONE piece for testing before dying all the hair.
PS : Because of different batches, the color of the product may be little different.
Please note on your order whether you want more yellow or more white Color

Premium hypoallergenic tape adhesive: strong, safe and non-damaging.
The extension can be reused by exchanging the tape bangs.
Easily and naturally blend with your hair.
Get beauty and confidence in seconds and no one will find your secret.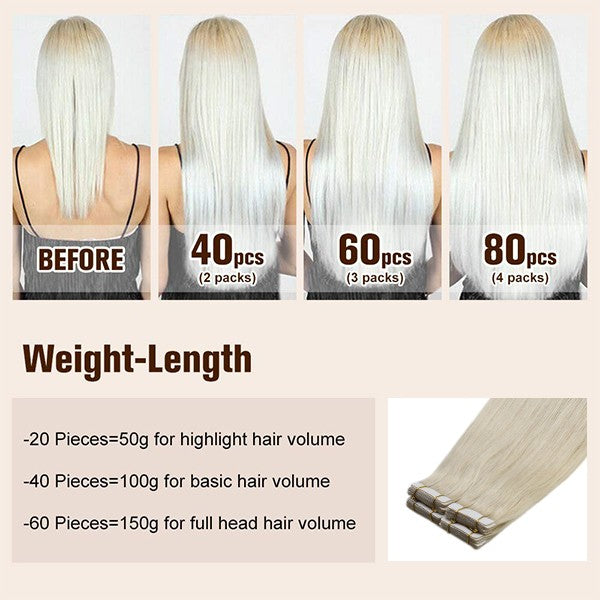 Don't wash the hair with the conditioner before using the tape
Never install at the crown or too close to the nape of the neck.
Make two extensions strips are glued together with a part of your own hair in between them.

Do

wash your hair after using the tape at least 48 hours.

When you use the conditioner to care the hair, please don't touch the attachment tape.
The hair can be straightened, curled, washed and restyled as you like. Please notice that the temperature should be under 160

If the hair extensions look very frizzy and unnatural, you could try to put the hair extensions into conditioner at least 30 minutes, or you could try to use the essential oil to care the hair extensions.
More hair extensions maintenance content, click enterHOW TO CARE