Lightest Blonde Mono Topper Human Hair Piece Toupee with Clips #60A
Description
Sunny Hair Topper Hair Piece for Woman
If you are bothered by thinning hair, gray hair, white hair or poor hair quality on top of head, topper hair piece is super suitable for you.
It blends perfectly into your natural hair, so on one will find your secret.
The silk base is breathable and make you comfortable, just take it easy no matter what occasions you wear it.
130% density.

Base size : 13" x 13" , 12" x 6" ( the size and shape could be customized as you design)
100% real remy human hair, natural, silky and soft.

Can be curled, straightened, and restyled as your own hair. The heating temperature should not exceed 160

Can be dyed, but only from light color to darker one, please take a small sample for testing before dying all the hair.
—— Advantages ——
Made of 100% Remy human hair, well-crafted human hair in silk base.

Perfect for slight hair loss, thinning hair, gray hair in crown, damage in hair topper, allergic to dyeing.

The silk base looks just like real human scrap. No one will find your secret.

Easy to wear and remove with 4 clips for security.
—— How to Apply ——
Open all of the pressure
Secure front clip 1-2 inches behind front hairline. Apply light pressure as you smooth base back; secure back clips.
Secure both side clips, keeping base taught and flat to head
Style and blend hair sensitive clips
—— Length Guide­ ——
There may be differences in the position of the hair reaching different heights.
If you need match length, please contact us: service@g-sunny.com
Sunny Hair shipping method is DHL, Fedex, TNT or USPS. We also will choose the appropriate way to express according to your region. the delivery time is 3-5 business days via Fedex, DHL, TNT. 15-25 business days via USPS
Here's a video to show our mono topper hair piece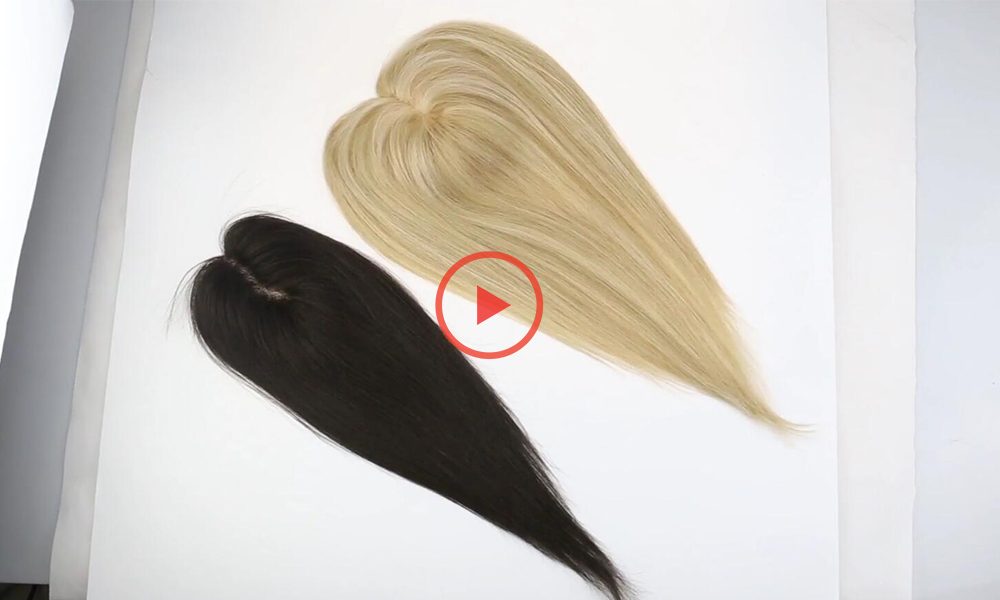 1.Don't wash the hair with the conditioner before
2.Wash and dry your hair completely before using the tape
3.Never install at the crown or too close to the nape of the neck
4.Make two extensions strips are glued together with a part of your own hair in between them
5.Don't wash your hair after using the tap at least 18 hours
6.When you use the conditioner to care the hair, please do not touch the attachment tape
1.Don't wash the hair with the conditioner before
2.Wash and dry your hair completely before using the tape
3.Never install at the crown or too close to the nape of the neck
4.Make two extensions strips are glued together with a part of your own hair in between them
5.Don't wash your hair after using the tap at least 18 hours
6.When you use the conditioner to care the hair, please do not touch the attachment tape
For more hair tutorials like this one, visit our
blog